ARISCARE: Al-Rashed International Shipping Co.'s Helping Hands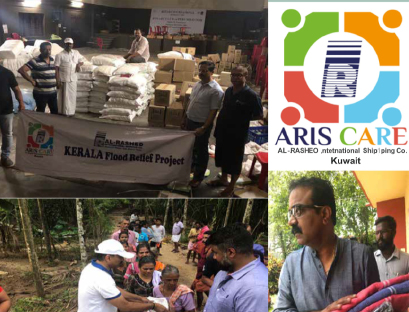 20 Aug 2018
Al-Rashed International Shipping Co. has been instrumental in Kuwait's social sphere, actively taking part in the cultural, social and charitable activities directly and via associations to support various sections of the society.
To create a further impetus in our social responsibility, Al-Rashed International Shipping Co. is all hands within our limitations to support mankind in the need of the hour.
With the launch of ARISCARE– Al-Rashed's helping hands program, we strive to extend our help to those in need of help. The first mission of ARISCARE was to be of assistance during the Kerala floods during mi- August. Al-Rashed had sent a team to be a part of the rescue and rehabilitation of the state which was in dire straits. Basic necessities were distributed to the ailing regions. Phase 2 of the Kerala project is to help in rehabilitating the state is to commence soon.
The Kerala floods unleashed its wrath on this south Indian state between July and August 2018. The major disaster struck the state be-tween August 9th and August 20th, killing almost 485 people and displacing over a million people. The damages were estimated at over $3 billion. In the world's effort to rebuild Kerala, Al-Rashed is also contributing its two cents.
We, as a part of the global ecosystem, possess several commitments to the world around us. Al-Rashed, as a way of honoring our commit-
ment, will strive to contribute towards the betterment of the world.